Water borne hardwood floor refinishing
SKU# WFRDF01 starting at only ($4.00per Sqft) Call for Current brand name costs prices!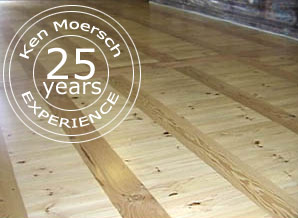 AHF-Allhardwoodfloor Ltd offers economy satin or gloss wood floor refinishing with our generic locally made water borne hardwood floor finishing coating is an good alternative to a polyurethane finish wooden floor resurfacing. The most misunderstood subject in the whole flooring industry Because their are so many different formulations of water borne floor finishes one needs to have an understanding of the differences how they influence the shading coloring or even texture of the surface finish. How durable are these finishes, is another question that needs addressing. AHF hardwood floor Ltd. works with all the various types of water borne finishes lets begin with single component water Bourne wood floor coatings this is what the advertised price is talking about after all. Our low VOC generic Crystalthane water borne three coats on an Red Oak. White Oak or Maple floor will last you till the kids grow up anyway. The great thing about water Borne finishes is you can recoat them, provided you did not contaminate the surface with soap oils waxes or cleaning agents, Making this a great choice if your not a connoisseur of the hardwood floor as these types of coatings are opaque or milky looking they do lack the grain clarity and depth of solvent based conversion varnishes, solvent based polyurethane or oil modified polyurethanes.
Two component water borne hardwood floor coatings popular mid grade brand names include VOC compliance: Poloplaz Express, Bona Mega, Glitsa Infinity2, Basic Coatings Emulsion. Two Component top of the line products are the Glitsa MAX, the Poloplaz Supreme, the Basic Coatings street shoe, the Bona traffic are all available as an upgrade.
Industry standard Work Safe BC compliant Hardwood floor sanding utilizing High Quality American Made Hardwood Floor sanding Machines and Matching Dust collection containment systems are perfect for all hardwood locations for on site sanded wood flooring......AHF All hardwood floor ltd has a great advantage with our Cadillac's sanding machines the American Twelve floor sander machine, Simply put the best twelve inch floor sander machine ever made. In the case of a stained colored wood floor followed by an American Floor crafter eight inch Belt Machine the best eight inch belt machine ever made. Read more on the sanding preparation!
---
Description

AHF-Allhardwoodfloor ltd offers the most popular brand names in water borne floor finishes and some you may never had heard of like Crystalthane 2 a locally made generic version of one of those brand names wide range of single component water borne born borne water based and popular two component water borne hardwood floor coatings Like: Bona, Poloplaz, Glitsa, Dura-seal, Basic Coatings, Last and Last....

Water borne finish coatings are the new standard of the day however they do differ from paint thinner and solvent based floor coatings in there appearance and their durability/performance. Glitsa MAX and Bona Traffic The latest release to the open market approx 2010 water borne 2 components are showing to be much better than all predecessors having a thicker viscosity and only covering 300 and 400 Sqft per gallon as a satin matte, opaque and containing zero amber tone some describe the build up look of these products as murky plastic,

Additional Views

AHF-All hardwood floor ltd this example is Street Shoe a Basic Coatings finish used as protection on this elementary schools gymnasium floor with a regular screening and recoat with two coats every second year keeping in mind that elementary sized players are using this floor not the beer league!

Requirements

Please be aware of the following!

Not a good choice for top nailed strip hardwood flooring after the second time around.

Water based hardwood floor finishing is usually fairly harmless. Due to the low cool gassing off process there is very low strength odors making It is usually possible to sleep in your home each evening.

Heat and light: The home or dwelling must be heated and light well.
Airflow: In order to ensure the maximum paint shop out come must have control of airflow, ventilation, foot traffic ext.
Pick an appointment when there is nothing else going on if possible. Excavators working on the roadways causes vibrations in turn cause dust to flow. Painters or roofers working outside can also interfere with getting quality finishing results.
Pilot lights and gas may be shut down if necessary.
floor resurfacing machinery requires access to 230 voltage at 30 amperes
Gymnasium floor sander rider setup requires a single 90 ampere 3 phase breaker.

Water borne floor finish Reviews

Basic Coatings Street Shoe The fastest-curing finish on the market, StreetShoe® is the industry benchmark for water based finishes. Available in four sheens. Ideal for all commercial, sports and residential applications.

Glitsa MAX maximum body, maximum build, maximum performance. The Objective has always been to offer the best products available in the Vancouver BC area we possible can, saving the home owner time and headaches is what the new water borne GlitsaMax is all about.

Glitsa Infinity 2 a low VOC Glitsa Infinity II is a one component, oil modified waterborne polyurethane floor finish. Infinity II is intended for use in residential applications where a warm, rich appearance is desired. This single pack wood floor finish has excellent flow, leveling and dry time. Infinity II does not require an additional cross linker to achieve a scratch and scuff resistant finish with lasting durability. Infinity II depends on air oxidization to develop cross linking .

Glitsa Hi Lite Glitsa Hi-Lite™ is a single-component, acrylic-polyurethane waterborne wood floor finish. Glitsa Hi-Lite is intended for use in residential applications and offers excellent flow, leveling and dry times.
Waterborne Finish For many of our customers is a viable alternative, because solvent based finishes are choking strong odors like the Glitsa gold seal Swedish Varnish finish and the fumes and inconvenience associated with it prompt them to choose a waterborne finish. Waterborne floor finish technology has only been around for about twenty five years, so these finishes do not share the time-tested reputation for durability that the sixty years old Swedish finish enjoys. In spite of this, we have had great success with waterborne products for many years, and as the technology becomes more and more advanced, we expect waterborne floor finishes to be more widely used as the VOC levels start to lower currently at 350 grams a litre
Waterborne finish is much less toxic and allow our customers to get back into their homes a little sooner an air-drying urethane-acrylic emulsion. Waterborne finish technology is a relatively recent technology, and therefore waterborne finish products have yet to earn the same durability reputation as for beauty Water borne finishes look fantastic as a satin or matte in the high quality 2 component formula such as the Glitsa MAX a new generation water borne or second choice is Bona Traffic matte or satin. These floor coating products are opaque in color kind of milky to electric blue stuff. They cannot be compared to the refined grain look and transparency of conversion varnish are nowhere near the same look as solvent based coating Glitsa gold seal Swedish varnish finish not even close. (Swedish finish (conversion Varnish) not available for purchase except to licensed contractors.) Ease of application also makes waterborne floor finishes the best choice for customers who anticipate doing maintenance coating themselves. Waterborne finishes are totally opaque and different appearance from Swedish finish .
Ambering and oxidization There is a huge difference on most species maple not so noticeable difference in color, which is difficult to characterize, so we generally show our customers samples at your home office or business often on your own floor in the case of showing a stain color is an example. You cannot compare waterborne finish which can also appear 'rougher' or 'less smooth' than the Swedish finish due to the lack of volume . We sell, our standard generic water borne floor finishes as a four coat package when refinishing wooden floors. After 4 coats No more is needed "I have I friend with this on his place and they raised two kids and later sold and got twenty years plus it looked good enough to sell wow". Additional coats of waterborne finish is not required or needed as no noticeable increase in look depth of sheen increase after this fourth coat recommended. There is an additional charge for additional coats of finish. Regardless of the type of finish you choose, the single most important factor determining how long the finish will last on your floor is what type and the degree of traffic to which your floor is subjected. A home with 2 adults, 4 children and a Large great Pyrenees dog, for example, will need its floors maintained much sooner and with greater frequency than a single-occupant, no-pet household. Thank You for your interest in Vancouver Hardwood floor sanding refinishing services at AHF ALL HARDWOOD FLOOR LTD Please take a moment to thoroughly read the following information about New wood floor installation. MATERIAL CHOICES