Customer Support

AHF All Hardwood floor ltd is now Celebrating fifteenth year from April 20 2004 home of Master Craftsman in the field of Hardwood floor resurfacing and installation who started his career here in Vancouver in 1979, its AHF-All hardwood floor ltd takes special care and pride in our reputation. Knowing if you have been fair with us will intend to treat you right on all levels, If you spend a lot of money here YOU will get amazing Quality on something like investment as many of our sanded old wooden floors once rejuvenated never need refinishing ever again. AHF looks after our customers and you will find us very responsive to any of your questions or concerns. We also keep records of your job after completion and look forward to servicing repaint or coating floors of AHF's Supply, The highest quality hardwood floor sanding resurfacing, The best reputation of product, quality service price
Our Programs

AHF All Hardwood floor ltd. Vancouver, BC is a smaller professional hardwood flooring contractor with the benefit of the owner of the small business hand crafting hardwood flooring and stairs even gymnasiums with his own hands supported by my two apprentices we can easily accomplish large area floor resurfacing by sanding wooden flooring with our gym floor rider sander. Top of the Line American twelve's sanding machine on 3phase electricity I also own single phase American twelve's and eights. The story of my life I have always used American Twelve hardwood floor sanding machine...Definitely the Cadillac of the Vancouver BC, Wood floor resurfacing Industry. AHF is and Entity organization and companies Fully registered, incorporated, insured, covered by work safe . Yes I did all this work with my own hands and well qualified to paint gymnasiums floor Art Work including the Logos Symbols Emblems Banners Lettering Basketball Volleyball and Badminton, Repairs to the game lines paint, wood floor board repairs
Perfect Choice

AHF-All hardwood floor ltd is your perfect choice for BC wide large area gym floor sanding, AHF offering special deals on sanding only for gymnasiums who's school districts want to do their own finishing or game lines, court markings, logos/banners. Sanding only can be a perfect choice even if you want a stained inside basket ball court field.
We have floor sanders that run on any kind of electricity, or we can supply our own. AHF All hardwood floor Ltd is willing to work in varying capacities at various locations throughout BC 604 603 7317
Best Solutions

After the wooden gym floor has been sanded. May we suggest gymnasium wood floor coatings. the first choice is the moisture cured urethane the toughest clearest stickiest of all gymnasium wood floor finishes, can be applied over urethane alkyd enamel paints or the two component epoxy paints. Polyurethane gymnasium floor coating these types of coatings are nice and sticky however they do turn yellow over time. The most high maintenance choice would be to use a water borne wood floor coating like Basic Coatings Street Shoe or Bona Super Sport water borne hardwood floor finish.
The key to a beautiful gymnasium floor is the game court markings and there color choices, the layout and the details such as graphics logos solid keys reverse painting overlay painting, team emblems, banner lettering
One Idea for Standard gymnasium wooden floor decorating is to paint this gymnasium's floors colors that represent the Province of BC with Navy Blue. Coquitlam Yellow. powder Chrysler blue, Royal red.

AHF All Hardwood Floor limited. Mobile industrial sized hardwood floor site sanding. High quality gymnasium wood floor refinishing and resurfacing.
Quality American made Clarke wooden floor sander machines and dust less wood floor sanding tools. Hardwood floor master craftsman Ken Moersch with over 33 years experience dedicated passionate polite and professional

Complete gymnasium hardwood floor sanding services for any size gymnasium at any geographical location in BC. AHF hardwood floors have sanded gymnasiums floors all over the province of British Columbia.
Small towns in rural communities require gymnasium hardwood floor products and service that will last.
That's why our customers in Nelson, Penticton, Kelowna, Terrace, Vernon, Kamloops, Pemberton and Whistler all look to AHF all hardwood floor ltd for there gymnasiums sanding and maintenance services.
Sanding Gym wooden floors.
Gym floor rider sander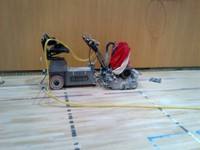 The Gymnasium floor rider sander actually twin twelve inch American Clarke hardwood floor sanding machines and the hydro static riding kart to drive and pull around the sanders. Takes tremendous skill to bind the sandpaper on the drums to accomplish chatter free operation on plain sawn flat grain floors but any thing beach maple and harder is ideal even to run a burnish cut The gym floor sander machine leaves an incredibly flat smooth surface, With one bad set up day and one good one it is possible to run a series of sanding from very rough to very fine on about a 4000 square foot area.
Highly mechanized Floor sanding equipment
AHF hardwood floor utilizes the gym floor rider sander, making it very comfortable and easy for me to accomplish all the other floor sanding tasks such as the perimeter edging sanding or the flood filling of the entire wooden gyms floors surface. Amazingly enough I have been able to do all this large area refinishing work by myself with enough time to train my two registered apprentices .
There are a few videos of the gym floor sanding process after the sanding with the field sander. "The gym floor rider sander" and the perimeters sander, "the edger". its time to burnish the gym floor with heavy weight ninety pound sixteen inch American made floor sanding "polishers" with a 100 double oo grit sanding screen. When I do all the wood floor work tasks myself-in a few words "consistent, beautiful amazing!