1Urethane Glued Down hardwood floor installation
AHF-uses Bostik's urethane glue products for all of our premium on site glued down flooring. Glued down floors a re usually are layed over top of a membrane of plywood subfloor which is also glued in over the cement slab or sleepers in concrete. Membrane may be STC or STF rated pertaining to sound transmission absorption.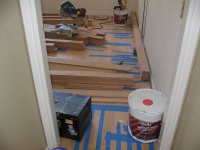 This kind of installation involves gluing down engineered wood strips or parquet directly to the sub-floor. **sub floor could also be a membrane In such cases, the sub-floor is usually concrete, so extra attention needs to be paid to the question of moisture.
With glue-down installations, it is important to point out that homeowners with allergies or sensitivity to smell may experience some discomfort in the installation.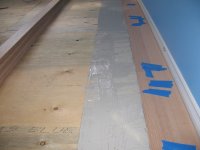 Glue-down installations can be walked on in no time at all – usually the following day – and furniture can also be moved back in to the room
With BOSTIKS BEST URETHANE GLUE they recommend walk on your work right away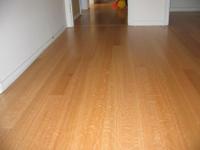 2Stapled Nailed Down hardwood floor installation
We have fully tested all of our fasteners and found that only 15 gauge thickness of the nail or staple leg is good enough to ensure they will not snap under the pressure of expansion or contraction a moving hardwood floor installation .
AHF floor ltd is committed to the highest straight and square standards
With this method, we will nail down or staple solid or engineered wood strips to the sub-flooring (which usually is made either of plywood or plank wood). The floor is laid with random length strips – a few are placed down and arranged prior to fastening, to ensure proper placement and tautness. This is the racking out process laying out all the boards in front of you so you can see what's going on.
Prefinished solid hardwood floor installation nail down flooring
prefinished solid hardwood flooring is the bread and butter of all the flooring installations. AHF will sometimes install hardwood flooring that you supply weather unfinished or prefinished.
3Floating engineered wooden floor installation
We provide polite and professional hardwood floor installations services to those who choose to purchase their own wooded floors. Engineered are a type of real wood top plywood bottom very stable flooring for over an under pad and vapor barrier. This can be a great option to help add real wood feel and warmth of a hardwood floor to an otherwise impossible floor to cover.
When it comes to floating installations, the tongue and groove of every plank is glued together, leaving the flooring 'floating' over a foam-cushioned padding. If the flooring has a locking system, pieces can be fitted together without glue.
This is a method that is used both with laminate and engineered wood - in both cases the flooring is pre-finished. Floating installations can also be placed over sub-flooring of more questionable quality, which is not possible with nailing-down and gluing-down. As a general rule, laminate flooring gives a hollow feeling underfoot, with this particular method.
Another factor is the 'wear' layer - the thicker the layer, the more times it can be re-finished.
Finally, it's important to remember that 'floating' floors expand and contract as a whole, because all of the pieces of wood have been fused together. You will need to allow for such expansion.
AHF's comprehensive service ensures that no detail is overlooked. We will determine the temperature, evenness of the sub-floor, and presence of moisture and sound barriers, before we even begin work. Whichever installation you choose, we guaranteed that you will be satisfied with the quality of our work and the finished product.
wood grain pattern selection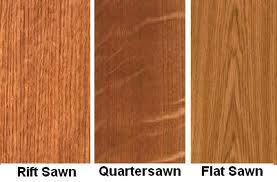 oak hardwood species is a very easy to get along with wooden floor material One of the beautiful feature of the oak wood species is the rift and quarter sawn grains. Quarter sawn or vertical grain which appears as little shiny fishing lures on the surface running perpendicular on the the straight running grain direction ,Rift sawn is also called edge grain is mostly straight grain with small veins of soft grain.
great wood species for floors?
We offer full customer support on all of our wood species. The most popular wood species for hardwood flooring applications are: Oak white and Oak red American Black Walnut, Maple, Beach, Birch, Ash, Hickory, Santos Mahogany, Doussie, American Cherry, Cypress, Jarrah, Elder,, Elm, Yew, Larch, Teak and Rosewood
Need more? We also offer a variety of Softwoods and pacific hardwoods such as Fir, Silver Maple, pacific Maple, Birch, Alder helpful resources as well as custom design staining and finishing in a broad range of surface coating products from environmentally friendly to extremely strong solvent based floor coating services for your modification needs----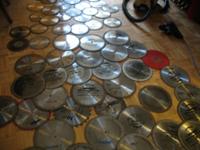 Hardwood floors are an excellent financial investment - with the proper installation and care, they will last for years. Here at AHF Hardwood Floor Ltd, we employ different installation methods depending on what kind of flooring you choose (for example, engineered wood strips, solid wood strips or parquet).
It always seems to be stressful when it comes to selecting hardwood materials for your flooring. Hardwood flooring materials can be broadly classified into two categories, which are unfinished materials and prefinished materials. Our Professional hardwood floor and stairs Installation services offer both of these types of floor materials in a wide assortment of patterns. It includes solid and engineered floor materials that are available in an assortment of thicknesses and lengths.
AHF's wood Floor contractor services offer you a broad range of wood species, decorative floor inlays, features borders patterns with many different finishes and colors that offer your flooring project an extremely luxurious appearance.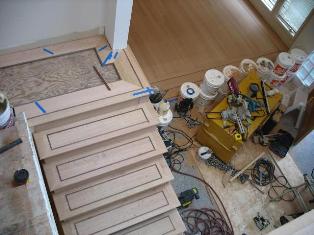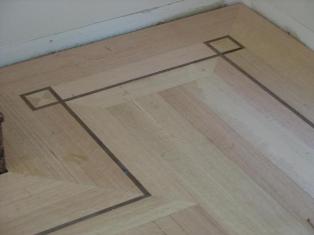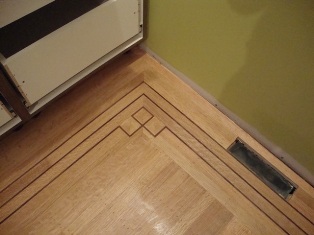 Choosing wood flooring for redecorating your home is obviously the best decision, however, selecting the right types of wood flooring material and a professional flooring contractor services is more vital. There is variety of wooden materials that is available and offered by a number of companies. It always makes better sense to choose the installation of wooden flooring as an investment as there has never been a better time to purchase hardwood flooring services in Vancouver. Let Ken from AHF hardwood floor services assist you in obtaining value amazing beauty for your decorating needs.
AHF's have a wide variety of wooden materials ready to be installed. We assist our customers in choosing the right materials that perfectly matches with the interior decoration of their home. Further, our flooring materials add an elegant radiance to the home. Some of the different wooden materials that are used to create the floors include,
American Black Walnut, American Cherry, White Oak, Red Oak, Beech, Ash, Cypress, Teak, Hickory, Wenge, Maceranduba, Paraju, Brazilian Cherry(jatoba), Indonesian Cherry(Merbau),Purple heart ,Fir, Alder, Pacific Maple, Eastern Hard rock Maple, Silver Maple, Birch, Bamboo, Rosewood, Elm, Larch, Jarrah, Santos mahogany and many more.
Each type of material is offered in assorted patterns and designs. We also offer more exotic types of materials such as engineering and acrylic based woods to suit our clients' needs. While offering a plethora of designs, we likewise ensure that Wood Flooring Installation services and the hardwood stairs sets are competitively priced. The quality of the materials , the expert grading services we provide ensure The Wooden floors installed by us are truly amazingly beautiful, uniform, subtle and durable.
Buy from us in confidence, the peace of mind that your investment in hardwood flooring did add great value to your single family residence or office, .place of business or institution
We're not an affiliate of any other Vancouver based hardwood flooring company in fact, we are aware of another flooring company trying to use a name so very similar, Rest assured there is no other incorporated flooring business named AHF all hardwood floor ltd, in the lower mainland of British Columbia
Wood Floor Services:
Service 1 Dustless dust free wooden floor Sanding
Service 2 Competitive dust free hardwood floor refinishing
Service 3 Glitsa gold seal Swedish varnish finishing
Service 4 Water borne dustless wood floor refinishing
Service 5 Polyurethane dust free wooden floor refinishing
Service 6 Moisture Cured Urethane gym floor finishing
Service 7 Dustless Vancouver hardwood floor sanding
Service 8 Staining hardwood floors Vancouver
Service 9 Vancouver BC hardwood floor refinishing
Service 10 Screen and recoating
Service 11 Gymnasium floor sanding
Service 12 gymnasium wood floor refinishing
Service 13 Gymnasium floor repairs
AHF All hardwood floor Ltd.
Letter of clearance

Work Safe BC website link -get a letter of clearance for legal business name Allhardwoodfloor Ltd
Vancouver Gymnasium Floor Repair Service, serving the Province B.C.
service area list:

Hardwood Floor Layer Apprenticeship, signed on & first day worked May 28 1979 here in Vancouver BC. It took six years to receive this hardwood floor layer Apprenticeship.

Hardwood Floor Layer Qualification Received after ten Years of membership and service in Union Hardwood flooring Companies Vancouver, BC

Committed to finding and training future hardwood floor layer craftsmen of BC's skilled labor workforce. The Beauty of wooded flooring or stairs!