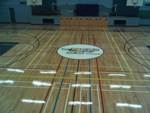 Gymnasium hardwood floor refinishing, Refinishing a gymnasium's wood floor allows for the possibility of redecorating the paint colors, designs and graphics . Refinishing also allows you to upgrade to the new FIBA 2010 basket ball court standard arrangement. When the finish coating on the gymnasium floor is so thick that it cracks and flakes off this is an indication that it 's probably time to sand off all the old painting game lines & finish and start the refinishing process over again.
Refinishing gymnasium floors these days is not like the days of old where your choices of finish coatings were Hillyard and varnish. Today we have water borne polyurethanes oil modified polyurethanes, Moisture cured urethanes and even some hybrid finishes.
Gymnasium floors refinishing is divided up into professional level sports like senior high schools and university's which are authentic court sizes and realistic game court artwork like logos bannered lettering, graphics from sponsors or team emblems. proper amount of off court space surrounding the courts . Elementary or junior where court might be scaled and streamlined for simplicity.
Gymnasium floor refinishing
Refinishing Features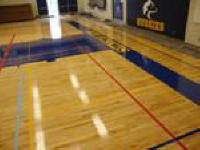 AHF-All Hardwood Floor Ltd. Features on location full service hardwood flooring contractor. Specializing in gymnasium maple elder and beach wood floor resurfacing. High quality craftsmanship performed by an experienced skilled talented and local Coquitlam resident artist master craftsmen Ken Moersch, in the hardwood industry since 1979.
The best of the flooring industries floor sanders and wood floor sanding tools and dust less dust free containment systems are all Work Safe BC approved and built American or Canadian made.
AHF's in buying American or Canadian made hardwood floor coating and industrial epoxy and urethane paints just like the Ford and Dodge vehicles that we use you can help affect at least the people in your world close to you.
Since April of 2004 AHF's incorporation If you can Imagine how many hardwood flooring projects of all sizes Ken Has been directly involved with gymnasium hardwood floor refinishing .