Junior court style
Elementary schools do not require a complex basket ball court and tend to just be the outline in a two inch line. Room sizes typically are around 4000 square feet Basket ball court keys only contain three jump marks ( 7-11-14).The three point circle is what we now call the ladies standard at 6.25 meters. Overall court dimensions are slightly smaller and scaled to room size.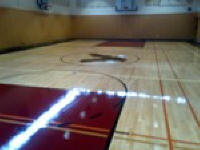 Elementary gymnasium game court markings offering unique color schemes, Court has enhanced features such as a solid keys area and over and reverse painted game court lines over top, custom eagles logo centre circle
Elementary size gymnasium's basket ball courts are laid out to scale. (this one too small for a three point circle). Above gymnasium hardwood floor is coated in moisture cured urethane. The decorum and colors to keep kids excited about playing basket ball
Middle/High court style
A basket ball court on a medium sized room for a middle school approx 6000 square feet."Aesthetics for athletics". Contrasting BC colors help set out the main basket ball court from the practice basket ball side courts. Wider outline of the main basket ball court Lots of room to bring out the bleachers to view the main game on this full size old standard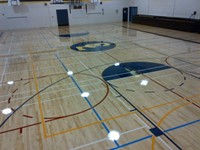 Middle/High Gymnasium Basket ball court, large enough to add side keys or practice courts seen here in red for basketball. This gymnasium refinishing included change the logo and Moisture cured urethane finish
This gymnasium hardwood floors resurfacing was accomplished solely by Ken Moersch and sons, Who Use the latest American made high production gymnasium hardwood floor sanding equipment. All the paint and Coating purchased locally from reputable businesses information inside click here
Pro/High court style
Basket ball court on larger room of 8800 square feet. High school decorated in the Province of BC colors, Main Basket ball court has full feature including wide banner width perimeter, Solid basket ball keys with reverse line painting. Over laid line painting of courts: side basket ball, side volley ball, badminton, pickle ball, floor hockey. Full sized practice side basket ball courts in basic two inch painted lines simple style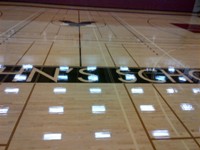 Professional arena basket ball must be a top performer , These floor surfaces must be able to catch the foot so a player can stop on a dime, Just like a good set of Porsche tires you cant expect them to last forever and occasional recoating is recommended to protect your graphics artwork and game court markings, AHF- makes available important after sales service and maintenance on what we sell to help you keep up appearances.
Large gym has enough room for near full size practice basket ball court and more
Compare FIBA/NBA/NCAA basket ball court standard
NCAA
NCAA is the high school standard and also the Women's standard size.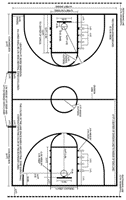 NCAA click for large image.
three compared
Very easy to see the size difference to the three point circle and keys dimensions.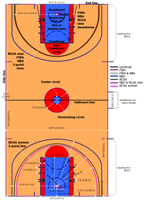 FIBA/NBA/NCAA/comparison.
the components of a basket ball court
the KEY
Some options exist for the paint of the basketball keys.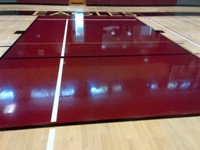 Create a high visibility basket ball game court by painting the entire key solid color.
LOGO
Graphics team emblem symbol for the centre circle Logo.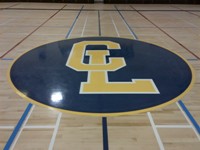 Customize your organizations home court basketball court with a team emblem or logo.
end BANNER
large lettering to the base banner width court outline.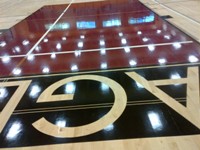 Custom banner lettering is one way to improve the appeal of a basketball court.
side BANNER
side banner lettering for the length court outline.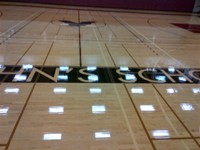 side banners reveals give your basket ball court a enticing professional look!
customize your organizations home court basket ball court with logo banner lettering team emblems graphics solid keys
Three Point Circle
The stained white hardwood three point inside field. This attractive feature adds great contrast and high visibility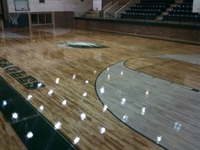 A real stunning spectacular visual display for your game.
Other features of this photo graph are the banner width basketball court perimeters with a banner set in the three point field.The 2;; green perimeter outline of the three point circle.
the Key diagram
Real changes in FIBA keys with a new width of 16ft and a new no charging semi circle.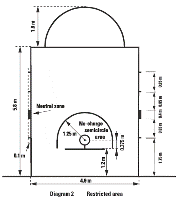 .
FIBA KEY drawing diagram dimensions click for large image.
The two types of paints for wooden basket ball courts!
All hardwood floor ltd uses only time honored methods and practices
AHF's methods are all well known and well tested throughout the wood flooring industry both painters and hardwood floor layers.
Epoxy paint is a two component mixtures, a much tougher paint used on ships military vehicles the main benefit of our 2 component epoxy paint is that is is compatible with our moisture cured urethane wood floor coating.
Urethane alkyd enamel paint a single component formula is the more widely used game court paint as once semi cured it is compatible with both water borne coatings and the polyurethane coatings or even moisture cured urethane. This type of industrial paint is widely available in Vancouver
Gymnasium wooden floor coatings - Solvent Urethanes / Poly Urethanes / Water borne Acrylics
1
Moisture cured urethane is the wooden floor industries top performing gymnasium floor coating. This is a voluminous viscous coating with coverage's around three hundred square feet per gallon. The product is full gloss tends to hold the glossy thickness look far longer than any other types of floor coatings. Our moisture cured urethane is a clearer version than that of most competitors.
2
Water borne gymnasium floor coatings these are the two component commercial graded such as Bona Super Super Sport or Basic Coatings Street Shoe. There are a vast sea of water borne coatings on the market feel free to inquire on any product not mentioned here. In fact there are some new generation 2 component commercial graded with a higher viscosity like Glitsa Max, Bona Traffic and Poloplaz Max
3
Polyurethane Wood floor coatings are the most popular because of the easy application and the cost. The actual coating itself is very good when within the first six or eight months depending on use and cleaning frequency. Polyurethane floor finish is not as tough as moisture cured urethane. poly make a nice sticky playable surface and yellowing inherently turns dark amber within a year.