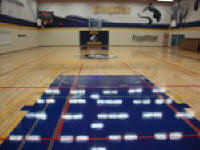 Painting the game court marking on a gymnasium hardwood floor? AHF offers industry standard game court markings service in two types of paint. Urethane alkyd enamel is the type of paint used more than any others because it can be used for polyurethane water borne and moisture cured urethane. The other product type is a 2 component epoxy paint whether a polyamide or methyl ethyl keytone based as in our specialty SFC paint for over the VCT vinyl composite tile. Again AHF is using products which are very uncommon in the hardwood floor industry. These specialty paints also require special masking tape as the epoxy also creates heat as it flashes. In British Columbia Gymnasiums what you find is, there are some standard colors for game courts mostly volley ball in reds, yellow, light green /powder blue for side courts, dark green and navy blue occasionally black or a main Basket ball court. Badminton / pickle ball white or cream. look to All Hardwood Floor for lay out & painting of game court markings anywhere in British Columbia .
Game court markings layout / painting
Game Court Color transform your organizations wooden floor surface into vibrant inspiring game colors. What's good for the players is good for the spectators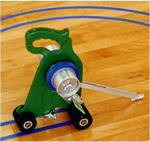 Game Court marking usually involves plotting and placing game courts over top of each other either one at a time. Waiting for each of the previous courts paint to have dried thoroughly enough to tape on top of, this method is called reverse taping or over lay. An easier way is to tape out all the courts and cut a way through the lower priority court allowing dominance of the main courts. this method leaves separations the width of tape everywhere one line of a different court meets each other. This method is call single cut out This is the more widely adapted method, greatly speeds up a court painting project. When taping out game court markings it is possible to integrate clear wood reveals by reverse taping. Solid keys and solid painted center circles could have the court lines painted on top or in clear wood or two 1/4'' pinstripe outlining the courts line..
AHF-All hardwood floor Ltd offers the game court markings and painting service a la carte' or packaged up with sanding or refinishing services to accommodate your needs.
Looking for some associated game court markings costs?.
Gymnasium floor stain?

Game court markings on a professional basket ball court would include a wood stained area inside the three point circle. This is a very interesting and visually attractive concept. Staining the inside three point circle is just one of many different layouts that can be achieved while sanding and refinishing the gymnasium hardwood floor. Giving your game organization's floor a theme and style at Vancouver's smallest gymnasium floor refinishing company.
Best Solutions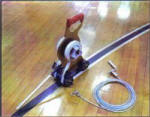 AHF hardwood floor's Ken Moersch A 35 years served dedicated Hardwood flooring professional to oversee the entire game court marking and painting project from start to finish. AHF is anxious to make some new business friends here in Vancouver. I am sure you'll enjoy what we have to offer. Top quality workmanship, Diligent punctual service, deficiency free completions on schedule.
---
Recent Game Line News
AHF hardwood floor ltd /kens floors Coquitlam BC Canada news flash. 1n 2010 the FIBA basket ball association has change the basket ball court dimensions to a new design, Gone are the angular legs for the jump marks from the main basket keys and in its place sit the new NBA style although 16 foot wide keys instead of a 12 foot the old standard.....Read More
---
Description

Images volleyball-badminton courts colors

Drawings diagrams volley ball-badminton court dimensions

Awana/labyrinth/shuffleboard/
Moisture cured urethane is the more highly specialized floor coating application where all the floor coating parameters are specific, this solvent based product is not compatible with the polyurethane or the water borne floor finishes.
Waterborne finish does not have a water borne paint for the gym floor refinishing to be non toxic like other types of hardwood applications. The paint that is most preferred by Bona sport poly and Bona super sport users is Bona game paint a type of urethane paint. I use The locally made Canadian urethane alkyd enamels (anything but Benjamin Moores ). Others will use the Poloplaz™ Supreme or Magnum. Poloplaz make there own urethane paint to go with there Magnum Low Voc polyurethane gym floor finish and Supreme 2 component water borne. So the point is. the paint is some variations of a urethane alkyd enamel that is used for water borne floor coatings like Basic Coatings™ Street Shoe or a urethane finish coating