Moisture Cured Urethane Gymnasium Hardwood floor refinishing
SKU# MCU01 starting at only ($might want call on this one per Sqft)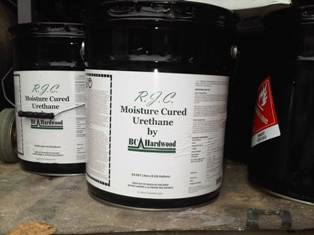 AHF-Allhardwoodfloor Ltd offers the BCH RJC as our premium Moisture Cured urethane gymnasium hardwood floor coating. This is an extra tough gloss solvent based Industrial strength floor coating is ideal for surfaces needing to be neither sticky or slippery but somewhere in between for high performance high school university and professional basket ball, volley ball, badminton floor hockey, hand ball racquetball, pickle ball, shuffleboard, four square, Awana and other such sports played indoors on maple and beach hardwood floors. Ideal protection for artwork and graphics like a team emblem or logo painted on a Gymnasium floor these large gallery and theatre or ball room and recreation centre floors can benefit greatly from the protection of this extremely durable floor finish coating. This product will last on a high school gymnasium maple sprung hardwood floor with two thousand children for at least four years and often seven years ,This BCH RJC Product is excellent with two component polyamide epoxy paints and urethane alkyd enamel paints and our special SFC epoxy paints. Moisture cured urethane is a classified as a LOW VOC (volatile organic compound) floor coating however this is professional use only and the smell is very strong needing several days to air out before reusing the building. Standard cure is about two weeks. This is AHF's premium top quality gym floor coating BCH RJC.
Industry standard Work Safe BC compliant Hardwood floor sanding utilizing High Quality American Made Hardwood Floor sanding Machines and Matching Dust collection containment systems are perfect for all hardwood locations for on site sanded wood flooring......AHF All hardwood floor ltd has a great advantage with our Cadillac's sanding machines the American Twelve floor sander machine, Simply put the best twelve inch floor sander machine ever made. In the case of a stained colored wood floor followed by an American Floor crafter eight inch Belt Machine the best eight inch belt machine ever made. Read more on the sanding preparation!
---
Description

AHF-Allhardwoodfloor ltd offers the most popular brand names in water borne floor finishes and some you may never had heard of like Crystalthane 2 a locally made generic version of one of those brand names wide range of single component water bourne born borne water based and popular two component water borne hardwood floor coatings Like: Bona, Poloplaz, Glitsa, Dura-seal, Basic Coatings, Last and Last....

Water borne finish coatings are the new standard of the day however they do differ from paint thinner and solvent based floor coatings in there appearance and their durability/performance. Glitsa MAX and Bona Traffic The latest release to the open market approx 2010 water borne 2 components are showing to be much better than all predecessors having a thicker viscosity and only covering 300 and 400 Sqft per gallon as a satin matte, opaque and containing zero amber tone some describe the build up look of these products as murky plastic,

Additional Views

AHF-All hardwood floor ltd this example is Street Shoe a Basic Coatings finish used as protection on this elementary schools gymnasium floor with a regular screening and recoat with two coats every second year keeping in mind that elementary sized players are using this floor not the beer league!

Requirements

Please be aware of the following!

Not a good choice for top nailed strip hardwood flooring after the second time around.

Water based hardwood floor finishing is usually fairly harmless. Due to the low cool gassing off process there is very low strength odors making It is usually possible to sleep in your home each evening.

Heat and light: The home or dwelling must be heated and light well.
Airflow: In order to ensure the maximum paint shop out come must have control of airflow, ventilation, foot traffic ext.
Pick an appointment when there is nothing else going on if possible. Excavators working on the roadways causes vibrations in turn cause dust to flow. Painters or roofers working outside can also interfere with getting quality finishing results.
Pilot lights and gas may be shut down if necessary.
floor resurfacing machinery requires access to 230 voltage at 30 amperes
Gymnasium floor sander rider setup requires a single 90 ampere 3 phase breaker.

Reviews

These types of professional dust containment hardwood floor sanding machines are not available as a rental tool, that is an easy 8 by Clarke its 110 volt job. weighs about 100 lbs. Same thing the edger sander is the more crucial element, the rental shop have a rental version that turns 400 times/minute slower than the B2 Pro.

Voted The Hardwood flooring industry's number 1 belt floor sander is the Clarke American Floor Crafter approximately 250 lbs with 4 horsepower 230 volt sealed engine. The smaller more portable profile can turn on a dime and is stable when caddying thick vacuum hoses

American Clarke twelve inch sander machine is 7.5 horsepower 230 voltage and 320lbs. Called the Cadillac of the flooring industry, the hundred something year old patent still rated the Number 1 hardwood sanding machine in the world.